Our targets are the best-made targets in the USA. We offer a variety of products, including premium IPSC  3/8″ AR500 targets and 1/2″ thick AR550 targets as well as safe, portable stands, steel gongs, hostage, and more.  Our AR500 targets work great with pistols, semi auto handguns and rifle calibers under .308. If you are shooting magnum round rifles, check out our AR550 line up. They are the thickest, strongest metal targets on the market and can even hold up to a 50 BMG at 400 yards or more.  If your not sure what target you need, check our Steel Target Ammo Chart or read our blog on AR500 vs AR550. The reactive targets and AR500 and AR550 steel silhouette targets have and continue to be a crowd favorites, so don't hesitate to check them out!
AMERICAN MADE STEEL TARGETS
Our targets are CNC Laser cut in the USA from the finest ar500 and ar550 steel that is bead blasted and smooth.
EASY MOUNTING
Mount your targets how you want.  All of our targets all have three 1/2″ carriage bolt holes for convenient center mounting or outside mounting keeping your safe from ricochets.
VARIETY
We offer a variety of products, including high-quality 3/8″ AR500  targets and 1/2″ thick AR550  targets as well safe portable stands.
POWDER COATED
All of our targets are powder coated in white and ready to shoot.
PORTABLE
We understand not every one has their own land to set up a permanent shooting range.  All of our target systems are easy to set up, lightweight and very portable so you can get to what you love to do.
PRE-PAINTED
Many of our competitors do not paint their targets leaving you to do the dirty work.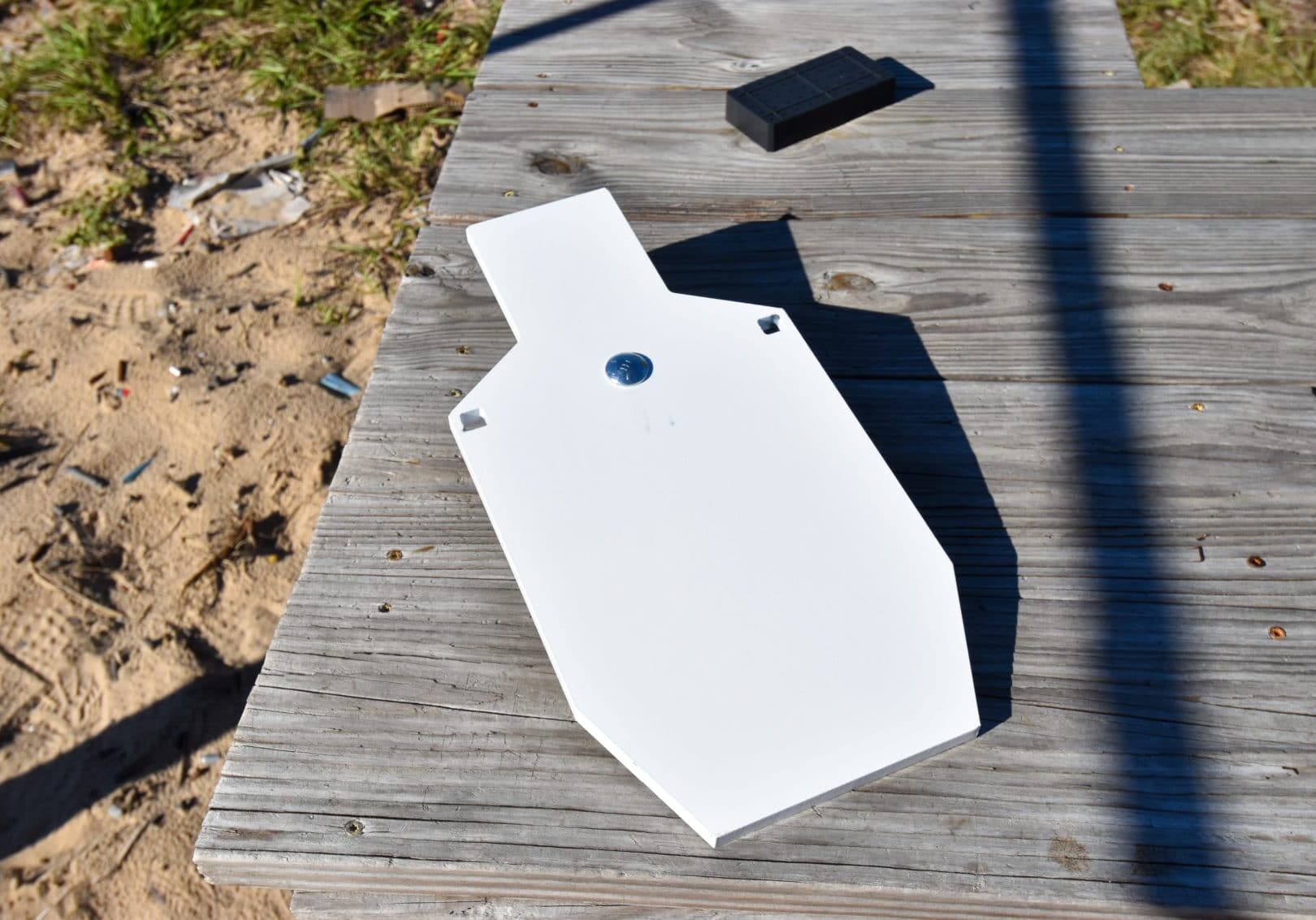 Silhouettes are sometimes call IPSC targets or torso targets. The are mostly used for handguns for self-defense as the shape slightly resembles a human torso. Shooters will also put them out at long ranges as they are big enough to be seen up to 1000 yards. The design gives you a larger "body" to show your shot group. The "head" of the target is smaller and gives more of a challenge to hone your skills.
Steel Target Silhouettes Sizes:
8x16 or 60% IPSC B C Zone
12x20 or 66% IPSC
18x30 or Full size IPSC
Steel gong targets are traditionally round and have 3 mounting holes so you can mount them how you like. This makes them quite a versatile target that works well on any range. Shoot them at 10 yards with a handgun or 100 plus with your favorite rifle.
Steel Target Gongs Sizes:
4 inch Round
6 inch Round
8 inch Round
10 inch Round
12 inch Round
Reactive targets can be a lot of fun. Hostage targets spin around when hit and reset to the other side so you can hit it again.  They can be great way to hone your self-defense skills as you are not supposed to hit the silhouette "hostage" in this scenario. Our hostage target comes in a 5 inch size so prepare to be challenged.
If you're looking for multiple targets that move, give our reactive gong target systems a try. The gongs swing when stuck so it is obvious when they have been hit. Of course, you'll still hear the "ring" of steel also. Change the swinging motion of the targets by putting the swing lock down so they targets have a quick reset like a popper target system.
One of our newest style of targets. Shaped like your favorite animal that you like to hunt. These styles of targets are also sometimes called silhouette targets as they are an outline of an animal. We currently have an ar500 coyote target and a prairie dog target available. They work great at getting you ready for your next hunt. Stay tuned as more animals will be on their way!
High quality USA Steel Targets that last
At Rangetime, our targets are designed with the competitive professional shooter in mind. We engineer our targets to be durable, light weight and easy to set up. Our IPSC targets are used in many competitions and ranges across the United States. We have a great selection of single targets, target systems and even full stages for USPSA Steel Challenge events. If you're a recreational shooter or just starting out, our targets will probably last you a lifetime with proper care and following a few guidelines.
Steel Target Distance
While there is no clear guideline for shooting steel, we recommend 10 yards or more for pistols and handguns. Rifle shooters are recommended to shoot distances greater than 100 yards. Generally speaking, the smaller and slower the ammo, the closer you can stand. Check out our blog on Key Safety Guidelines for Shooting Steel and our Ammo Caliber Chart below for more information. Always remember to wear safety glasses and ear protection when shooting at metal targets.
How to Hang Steel Targets
Hanging steel targets properly can help extend your targets longevity and keep you safe from splash back from ammo. The angle of a metal target makes a huge difference on how ammo splatter reacts. Steeper angles direct more splatter to the ground and more of the ammo the energy is dissipated. A 20-degree angle is optimum as steeper angles tend to cut down of the viewable target face size. Targets should also be able to move and absorb ammo energy.
Steel Target Maintenance
Always inspect your targets for cracks or pits as targets can degrade overtime as they can cause splash back from your ammo. Inexpensive enamel paint can also extend your targets life by keeping it them from rusting. Painting your target also helps you see where you have hit your  target way better than any paper target can.
Ammo Caliber Chart for Steel Targets
The best type of target depends on your exact gun. Our targets are suitable for pistols, shot guns, and rifles. Check out the target selection guide below for your specific firearm.
Minimum Distance for pistols is 10 yards.
Always wear eye protection when shooting steel targets
Do not use ammo with steel or steel core ammo.
Minimum distance for rifles is 100 yards with 20% degree mounting.
Speed must be below 3000FPS muzzle to avoid pitting
**3000FPS and above require longer distances (125 yards) or more to avoid pitting with AR500, 50 yards or more with AR550.
Pistols
| | | |
| --- | --- | --- |
| Ammo Type | 3/8″ AR500 | 1/2″ AR500/AR550 |
| 22LR | Yes | Yes |
| 380 | Yes | Yes |
| 9MM | Yes | Yes |
| 357 MAG | Yes | Yes |
| 40 | Yes | Yes |
| 45 ACP | Yes | Yes |
| 44 MAG | Yes | Yes |
| 50 S&W | Yes | Yes |
Shotguns
| | | |
| --- | --- | --- |
| Ammo Type | 3/8″ AR500 | 1/2″ AR500/AR550 |
| 410 Slug | Yes | Yes |
| 20 G Slug | Yes | Yes |
| 12 G Slug | No | Yes |
Rifles
| | | |
| --- | --- | --- |
| Ammo Type | 3/8″ AR500 | 1/2″ AR500/AR550 |
| 22LR | Yes | Yes |
| 17HMR | Yes | Yes |
| 22-250** | Yes | Yes |
| 223/5.56** | Yes | Yes |
| 7.62×51 | Yes | Yes |
| 243 | Yes | Yes |
| 270 | Yes | Yes |
| 30-06 | Yes | Yes |
| 308 | Yes | Yes |
| 7mm | No | Yes |
| 300 WM | No | Yes |
| 338 LAP | No | Yes |