How To Hang Steel Targets
So, you've finally bought your first AR500 target. They just arrived and you have taken them out of their package. Now what? How do you hang them so you can get shooting! In this article we will show you how to hang steel targets so they are safe to shoot at and will get the most life out of them and how they will give you the best "ring" when shot. Shooting metal targets can be fun and AR500 targets will last a long time when following these simple suggestions.
Target angle
Target angle is crucial when hanging targets. AR550 or AR500  targets should be hung with a minimum of 20 percent downward angle. The angle helps deflect shrapnel to the ground below the target, sort of like skipping a rock across water, only you are deflecting the spent shrapnel down to the ground. A target that is mounted parallel to the shooter without any downward angle, poses a threat of ricochet to the shooter. Bullets can travel backward toward the shooter and cause potential injury. Pictured below is a couple of different ways to hang AR500 targets properly.
Hang em' loose
Hanging AR500 targets loosely so they can sway when shot will help with the longevity of the target by absorbing the energy of the bullet on the face of the target. Another benefit of hanging AR500 targets loosely is the sound quality when shot. Loose hanging targets ring much louder and longer than targets that are mounted tightly, preventing movement.
Proper height
Target height is especially important to safety. Hanging a target too high causes errant rounds to travel great distances and could cause injury to bystanders. We recommend having the top of the target at no more than 4 feet from the ground. If you are a shorter person, than go a little less. This puts the average gun at a slightly downward angle so if you miss, it will hit the ground not to far behind the target. The other advantage to putting your targets lower is that the lower the target, the greater the target angle becomes.
Hanging by chain or rubber strap
One of the most common ways to hang metal targets is by chains or rubber straps. This way of hanging allow the AR500 targets to move freely. Usually, the chain or strap will be mounted to a horizontal wood 2×4. One can bury wood 2×4's into the ground and attached the horizontal 2×4 or make a wood "sawhorse" design. Some designs mix wood and electrical conduit like our AR500 gong target systems. When using the chain method or strap method, make sure to use bolts that are 2 ½ inches or longer. Use one nut to tighten bolt to target and two nuts on each side of the chain as in the picture below. By keeping the chain or strap away from the target, it will tip the target creating an angle while still maintaining free movement of the target.
Hang by mounting bracket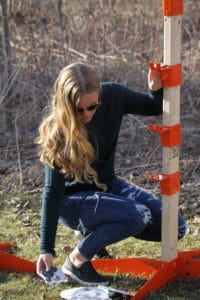 This is one of our favorite ways on how to hang a steel target. Most target mounting brackets are inexpensive and use either a wood 2×4 or metal fence posts as supports. If you are mounting AR500 or AR550 targets to a target mount bracket, look for one that holds the target at a 20 degree or more angle while still letting the target move like our AR500 Target Solutions 2×4 mount and Fence post mounts.  Stay away from any mounting brackets that require you to tighten the target mounting bolts until the target is mounted solidly without any flex or movement.
Bolts
Nothing will ruin your day at the range faster than cheap bolts and hardware. It only takes one shot on a standard bolt to break it and stop your range session. Grade 5 or better bolts work best and will last the longest and usually do not cost very much. If your targets have a square bolt holes, use carriage bolts as they have a round head on them. The round head does not have the sharp edges like a hex head bolt does and has a little less chance of ricochets. AR500 Target Solutions offers grade 8 carriage bolts if you can not find them at your local hardware store.
Safe distance
Proper AR550 or AR500 target distances are a crucial part of learning how to hang steel targets. Distances are different for rifles and pistols. For Pistols, you can be as close as 10 yards. For rifles, you need to be 100 yards or more depending on what caliber you are shooting. Rifle ammunition muzzle velocities are much higher than pistols and must be kept under 3,000 feet per second.  As always, you should never shoot armor piercing, birdshot or buckshot at metal targets. Never shoot at deformed metal target. These are directives to keep you safe and get the most enjoyment from your AR500 targets. Head on over to our steel targets page to learn more about how to hang steel targets and what calibers to use!
Check out our Affordable Target Hanging Solutions
Disclaimer
Shooters and spectators must always wear proper eye and hearing protection. Buyer assumes all responsibility for the use and misuse of the purchased targets.